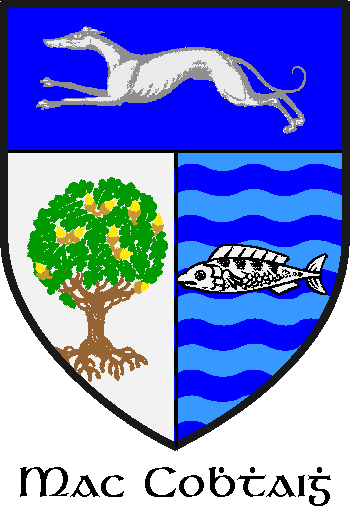 Get this crest printed on...
Coffey Family History
This famous Irish surname is recorded in many spellings including O'Coffey, O'Coffie, O'Cohey, Coffee, Coffey, Coshey and Cowhiy. It is an Anglicized form of the pre 10th century Gaelic O' Cobhthaigh, meaning the descendant of "Cobhthaigh", the latter being a tribal personal name translating as "The victorious one", no doubt a reference to a legendary warrior of ancient times. There were three main septs in Ireland making up the clan. The first sept belongs to "Corca Laoidh" or South West Cork, where local pronunciation produced the spelling forms Cowhig and Cowhey. It is claimed that the Cork sept is of the same stock as the great sea-faring clan O' Driscoll, although quite why this should be so is one of the mysteries of Irish mythology...