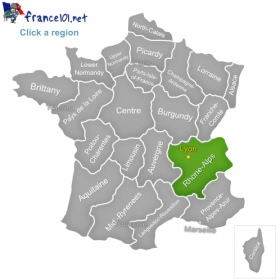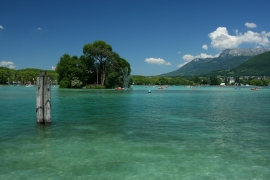 Annecy-lac1 - By Yves LC (Own work)
[CC-BY-SA-3.0], via Wikimedia Commons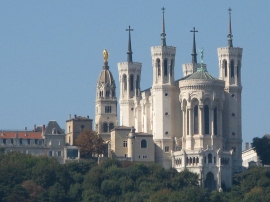 Basilique_de_Fourvière_from_Saone_(Lyon) - By MickaëlG (Own work)
[GFDL or CC-BY-SA-3.0-2.5-2.0-1.0], via Wikimedia Commons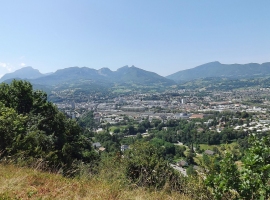 Chambéry_depuis_les_Monts - By Florian Pépellin (Own work)
[CC-BY-SA-3.0], via Wikimedia Commons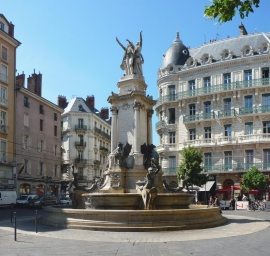 Fontaine_trois_ordres_-_Grenoble - By Milky (Own work)
[GFDL or CC-BY-SA-3.0-2.5-2.0-1.0], via Wikimedia Commons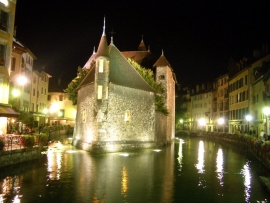 Jail_in_annecy - Photo by Matteo Peraldo (Own work)
[GFDL or CC-BY-SA-3.0-2.5-2.0-1.0], via Wikimedia Commons
Lyon is France's third largest city and one of its most beautiful ones. It is not only an economic powerhouse and home to incredible festivals and gastronomy, but it is also a UNESCO world heritage site. Needless to say, it is a city in France that should not be missed.
As the birthplace of cinema, Lyon has a bustling cultural scene and offers wonders such as original roman ruins, film festivals, music concerts, dancing biennials, and the incredibly beautiful and unique festival of lights.
The city attracts students and workers from all over the world so its cultural scene isn't limited to museums and theaters, but it is out in the street, in the everyday interactions of its inhabitants and visitors. It offers visitors beautiful churches like the Fourviere basilica and the St. Jean Cathedral, amazing landscapes, picturesque promenades like in St. Georges neighborhood and Parc de Gerlard, and wonderful museums like the Musees Gadagne and the Musee urbain Tony Garnier, so that it is impossible to spend any idle time in the city.
Old Lyon is the largest renaissance area in Europe after Venice, and a walk through it offers a look into the past, as well as exciting experiences for lovers of history, architecture, shopping, and unique places. This former home of international merchants still offers colorful views and cobblestone streets. Of course, you can find authenticity as well as many tourist traps so take your time to explore around the area and see where your time and money would be best invested.
Another area worth taking the time for is the Croix-Rousse area, a historic area that was once at the center of the city's silk production industry, holds an ancient Roman amphitheater, and also has renaissance buildings on a steep street. If you want to see the traboules, or passageways that are associated with the architecture of Lyon, then this and Old Lyon are the places to be.
If you're looking for some dining, shopping, and clubbing, then Presqu'Ile is the place for you. After a long day of taking all the culture the city has to offer in, head over to this area for some fun and relaxing. Presqu'Ile also has many churches, museums, and historically important landmarks, but it barely has any medieval architecture left and it is the primary economic area of the city, so you can always expect it to be full and lively.
If Lyon is an example of its region, then you can be sure that the Rhone-Alpes region also has much to offer. A former Roman territory, this beautiful French region can claim the beautiful Rhone river and the breathtaking Alps. It is one of the most economically active regions in France and has other amazing cities like Grenoble, Saint-Etienne, and Chambery. The region also has one of the most important culinary cultures in the country and is famous for its traditional dishes such as the Lyon sausage, raclette, tripe, and its many varieties of cheese.
Geographically, economically, and culturally diverse, the Rhone-Alpes region and its beautiful capital, Lyon, are a dream destination.