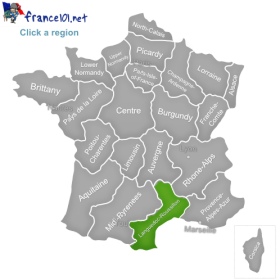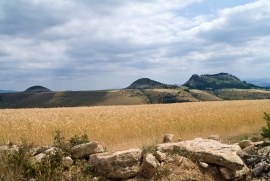 Eschino_d'Aze_et_puechs_des_Bondons - © Myrabella / Wikimedia Commons
CC-BY-SA-3.0 & GFDL, via Wikimedia Commons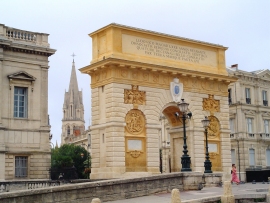 Gate_Montpellier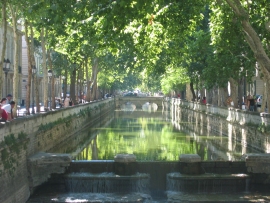 Les_Quais_de_la_Fontaine - photo personnelle de Nicolas Cadène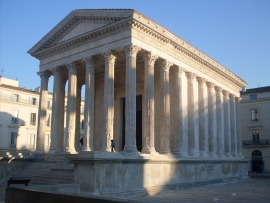 MaisonCarrée - By Danichou (Own work)
[Public domain], via Wikimedia Commons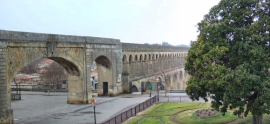 PanoMontpellierAquaduct - © Stevage
Wikimedia Commons / CC-BY-SA-3.0 & GFDL, via Wikimedia Commons
Languedoc-Roussillon is the southernmost region of metropolitan France. This gorgeous Mediterranean region that can proudly claim the developmentof the troubadour tradition borders Spain and Andorra, and has incredible natural and cultural diversity.
Because of its history and its geographic location, Languedoc-Roussillon has two very strong regional languages besides French: Occitan and Catalan. Though both are a minority, they are stronger than most other regional languages and there have been recent movements that are looking to revive and strengthen their tradition.
Besides this cultural diversity, the region has an impressively diverse landscape. With a capital that is the 8th largest city in France, countless tiny picturesque villages, two mountain ranges, the Mediterranean Sea, incredible castles, and the largest wine-producing area in France, it is clear that Languedoc-Roussillon has much to offer.
Its two mountain ranges, the Monts d'Espinouse and the Pyrenees, are not the tallest or largest of France, but offer gorgeous views and are great for winter sports like skiing, and year-round sports like hiking and mountain climbing. Its natural park, the Parc Naturel Regional du Haut Languedoc has beautiful green woods, fertile river valleys, and gigantic boulders. Its natural gorges and caves, like the Gorges du Tarnes and the Grottes de Demoiselles, are favorite natural spots for locals and visitors. In the sea you can find some of France's best beaches, popular spots for tourists and windsurfers, especially in the summer.
This majestic nature is perfectly complemented by the castles that decorate it. In fact, the Chateau de Peyrepertuse, the Cathar castles, and the Chateau de Queribus are among the top things to see in this region. Besides its castles, Languedoc-Roussillon has towns and cities that offer lots of interesting places. Carcassonne, for example, is a medieval fortified city that leaves its visitors in awe, Nîmes holds an annual flamenco festival that attracts visitors from all over Europe, and Perpignan offers beautiful promenades with small streets and medieval architecture.
Of course, its biggest and most important city is its capital: Montpellier. The city of Montpellier doesn't need an introduction, as its notable beauty and cosmopolitan life have earned it a name among France's most visited and most well-known cities. The old center is particularly beautiful and contains the Place de la Comedie, the city's most important square; the Jardin des Plantes de Montpellier, the oldest Botanical Garden in France; the Cathedrale Saint-Pierre, and the Antigone District. The Esplanade is also a much frequented place and one of the best spots for a long walk on a nice day. If you are into history, make sure you visit the University of Montpellier, one of the oldest in the entire world.
Montpellier has a wide variety of world-cuisine as well as traditional French food. Because of its Mediterranean location, the Languedoc-Roussillon region is famed for its seafood, so eating oysters in the city is the perfect way to immerse into the regional culture. Any food can be perfectly accompanied with some of the local white or red wines, or, for those with a like for stronger tastes, with pastis, the local liquor.